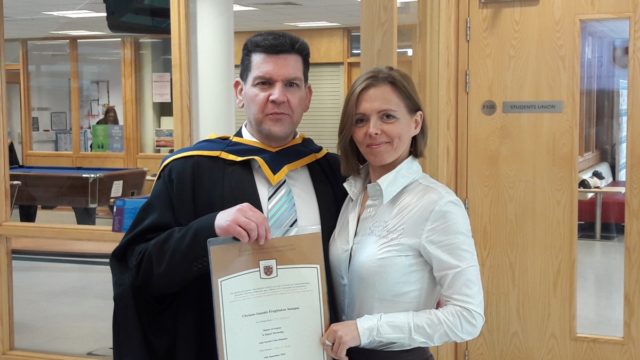 Greek native Chris Sempos is the subject of this week's New to the Area interview as he tells us how he left behind his homeland to settle in Mountmellick with his family and set up his own digital marketing business.
When did you move to Ireland and how did you end up in Laois?
I was living in Greece with my wife and our two sons but the side effects of the economic crisis started distressing our family from 2006. In 2009 we decided to start a business in another EU country to survive and save whatever we had created up to that point and also providing our children the opportunity to study. The best place in Europe that combined both our 'specs' was Ireland. The final step to move the family in Ireland was made after our elder son was accepted in LIT in 2012. This is when we liquidated all our family assets and relocated to Ireland.
Being in the midlands, Laois have access to any part of the country within reasonable time and as our competition was packed in Dublin and Cork we realized there was an opportunity for our business.
We now run the only full scale Marketing Agency – www.digitalb2bservices.com – based in Mountmellick and we are happy to help our clients reach out and build trust on their customers tackling the plethora of alternative proposals found over online and offline media.
What's your favourite thing about living in Ireland?
Every place is made by its people, the friendliness and the kindness of the Irish is still impressive.
Have you visited your home country much since you left?
Only once, it is very hard for me to see people I love and care about to suffer. Hopefully we can visit our parents friends and other relatives every one or two years.
Have you noticed any changes since you left your home country?
As far as I can tell, things are still getting worse day by day in Greece with no sign of recovery in the near future. People like you and me are left without any income at all, many develop mental health issues, families are separating, others migrate and others commit suicide.
What have learned most since arriving in Ireland?
I had an amazing opportunity to expand my knowledge on my profession completing a Master's of Science level 9 degree in Digital Marketing in IT Carlow.
My wife had also the chance to complete a Bachelor's degree in Tourism Marketing in the same institute. We always believed that knowledge is a never-ending process but what we have learned from that was that anything is possible when we go after our dreams.
What's the strangest thing that has happened to you on your travels?
Nothing unpredictable, the only kind of strange story was a missed flight that stretched our budget on extra ticket costs and an undesired overnight stay in Manchester.
What's the biggest difference between Ireland and your home country?
Stress and despair is carved on people's faces in Greece while things are much more relaxed and predictable in Ireland. People living here live a peaceful life feeling much happier.
Do you meet many people from your home country living here?
No, the total population of Greeks in Ireland is about 1000 mainly living in Dublin and Cork so there are not many opportunities to be in touch.
What do you miss most about your home country?
The most obvious answer would be the weather but it is not that. What I really miss most are the ancient monuments (like Acropolis, the ancient Agora, the ancient theatre and much more) that I used to see every day and the cultural events on ancient theatres or open stadiums and any type of socializing with people and gatherings with friends.
Will you return to live in your home country at some point in the future?
This could be a possibility but Ireland has been so kind and hospitable and even if we do decide to return, a piece of our heart will definitely remain here. In the beginning when we were mentioning 'back home' we were referring on our home country, now back home means here in Mountmellick.